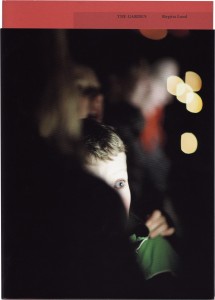 The Garden – fotografier af Birgitta Lund
Den danske fotokunstner Birgitta Lunds seneste bog The Garden er en samling fotografier taget i Tivoli.
Birgitta Lund udtaler:
"Da jeg startede på bogen, boede jeg tæt på Tivoli og kom der ofte om aftenen. Jeg begyndte at se Tivoli og havens gæster som et billede på vores globaliserede samtid. Der var i min optik en slående lighed mellem de billeder fra verdens brændpunkter, der flimrede over tv-skærmen, og Tivolis imaginære Orient, blinkende lys og gæsters forførte blikke. Det er den oplevelse af Tivoli, jeg har forsøgt at indfange med mit kamera."
Bogen indeholder foruden fotografierne en samtale mellem Birgitta Lund og den amerikanske journalist og dokumentarfilminstruktør Brian Palmer.
Bogen udkommer onsdag den 20. marts 2013. Der er bogreception samme dag på Ipsen & Co, Gammel Kongevej 108, 1850 Frederiksberg C , kl. 17-19.
Bogen udgives af forlaget Space Poetry. 24×17 cm, 64 sider, 23 farvefotos, softcover med smudsomslag, sprog: engelsk. Pris kr. 160,-
Birgitta Lund er uddannet på International Center of Photography i New York; en by hvor hun indtil 2003 boede og arbejdede i atten år. Hendes arbejde har været udstillet i både Europa og USA. Det tidligere projekt In Transit blev i 2005 tildelt den internationale franske kunstpris Prix Fondation HSBC pour la Photographie, Fogtdals Fotograf Pris og det franske forlag Actes Sud udgav monografien In Transit. Hendes arbejde er repræsenteret af Julie Saul Gallery i New York. The Garden markerer den første billedserie som Birgitta Lund udelukkende har fotograferet i Danmark.