Fred Ritchin


"In my photographic work I was always especially entranced, said Austerlitz, by the moment when the shadows of reality, so to speak, emerge out of nothing on the exposed paper, as memories do in the middle of the night, darkening again if you try to cling to them, just like a photographic print held in a developing bath too long."
- W. G. Sebald, Austerlitz

"I am invisible," says Birgitta Lund, another nocturnal wanderer with a camera haunting what she calls a "fictive miniature universe"—commonly known as Tivoli Gardens.
Is she a spy in the house of love? A dreamer searching for partners to ascend the spiral staircase? A stalker, watching as visitors gently open, flower-like, to the febrile and fantastic?
Unlike Sebald's Austerlitz, Lund encounters a universe radically different from the one that has just left us, momentarily cleansed of the sordid and rank. From the park's otherness, the ethereal and exotic, she summons a world rife with polyglot cultures rendered mysteriously taut and yet somehow inert. Her shadows, unlike Austerlitz's, are neither of reality nor do they emerge out of nothing, but serve willingly as dark cover for the nearly unexpressed.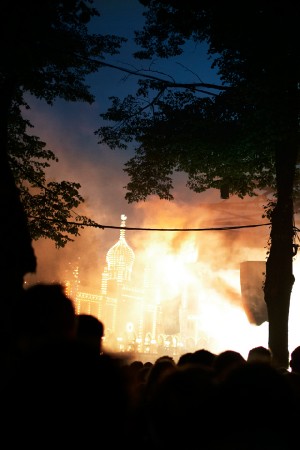 It is as if in her pictures we are reading an illuminated newspaper foretelling deeds and spells, the one with dark knights and somber princesses trapped in gossamer landscapes while alone with their thoughts. Light, a talisman, has the photograph seek its quiet release.
First created two centuries ago to evoke an exotic, imaginary Orient in the midst of Copenhagen, Tivoli Gardens continues to attract visitors from all over the world to its flower gardens, fireworks displays, concert hall, pantomime theater, roller coaster, 80-meter high carousel and flight simulator.
In 1843 Georg Carstensen was said to have obtained an initial five-year charter for a theme park by telling King Christian VIII that "when the people are amusing themselves, they do not think about politics."
At some point Sebald's Austerlitz says, "In fact at this time, usually when I came home from my nocturnal exercises, I began seeing what might be described as shapes and colors of diminished corporeality through a drifting veil or cloud of smoke, images from a faded world…" What do we see? A faded world, or one yet to emerge?
This too is what this book is about—a post-apocalyptic world spawned from enormous doubts and incessant violence. It is not that people do not think about politics, even in the Garden; it is just that for a dream-like second they are allowed to whisper to themselves other names. It may be Eve, or Adam, but for the moment the snake is still curled up, left behind.

Fred Ritchin, photo editor, curator, and Dean of the School at·International Center of Photography, New York City.